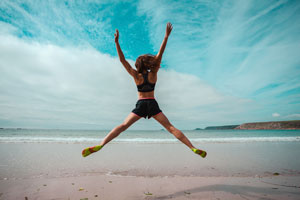 I am an unapologetic winter-hater! I have the occasional happy thought towards the cold weather when I get to wear a favourite coat. But that small pleasure is never enough to compensate for dreary, shorter days of wearing layers and battling the cold and flu season.
Today as I write this article, the sun is beaming and it is a glorious day. Without even realising it at first, my mood first thing this morning was completely different, even though I had just as many things on my mind as the day before. Even working indoors as I do, my outlook on the day was brighter and I felt more energised.
I know we are not all wired in the way I've described above (some of you strangely enjoy winter!). But there is a great deal of research about the effects of weather and exposure to nature on mood and overall mental and physical health. As small business owners, many of us are nose to the grindstone and tend to forget about stopping once in a while to recharge.
One study into the benefits of nature has found that the farther you live from green space, the more likely you are to be unhealthy. Other studies have linked a lack of exposure to nature to higher risks for obesity, cancer, heart disease, anxiety and depression. It also seems to be self-perpetuating: that is, the more deprived we are of the 'outdoors', the less likely we are to seek it (and to curl up on the couch instead!). Conversely, those who spend even just fifteen minutes walking in nature (rather than urban areas) seem to have dramatic increases in self-esteem, improved mood, and even boosts in creativity and memory retention.
Most of us really don't have an excuse. Instead of eating lunch in front of the computer, go outside to eat. Leave home fifteen minutes early and go for a walk before you start work. It does not have to be anything strenuous – even sitting on a chair in a natural setting can have positive effects. Your body and your business will thank you for it!
---
Michelle Grice writes a weekly column for business women in The Western Weekender