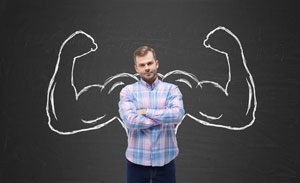 We all have opinions. With the rise of social media, some of us have suddenly found a broader and louder platform to share those opinions. You are probably familiar with the terms 'trolling' and 'keyboard warriors' in reference to online behaviour, and many of you are likely to have experienced it to some degree. Trolling generally amounts to bullying, with the 'trolls' hiding behind the anonymity of the online world. They use their keyboard to unleash sometimes quite vitriolic tirades against people who in 'real life' they would never confront or speak to in that manner.
If someone is clearly being abusive or threatening towards you (or others) on your social media accounts, you should absolutely delete their comments (after taking a screenshot of them for possible evidence if required), and block them from being able to post again.
But there are often more subtle occurrences of online 'feedback' that needs to be navigated. If you receive negative feedback or criticism on social media, your first instinct is probably to want to delete it. Why would you want other people to see negative feedback about your business?
However, you need to strongly consider leaving negative (non-abusive) feedback for others to see, because it is your response to that feedback that is going to show others a great deal about your character. If you receive a negative response, as soon as you possibly can, you need to respond to it, even if it is just to say "Thank you for providing feedback on your experience with our business. Can you please send a private message with some more details and we will look into this for you?"
A response like this shows the complainant, and other customers, that you respond quickly, you are willing to listen and investigate, and that you are responding in a measured and polite manner. This will go a long way to repairing any damage that a negative review might have had on your business.
---
Michelle Grice writes a weekly column for business women in The Western Weekender